The Solar Explorer
ENJOY OUR DYNAMIC SUN TO ITS MAXIMUM AND EXPERIENCE THE DELIGHTS OF TIME-LAPSE SOLAR ASTRONOMY
Hello and I wish you a warm welcome to Andy Devey's website THE SOLAR EXPLORER a site as dynamic as our Sun. I am continuously evolving this site as an interactive resource for you aspiring amateur astronomers that are committed to SAFELY achieving your own progressive solar astronomical and outreach goals. Please feel free to contact me to ask questions or make any comments about my website - all feedback is helpful! Check out this short video [2 - 1/2 minutes] prepared by the local Barnsley press. HERE IS MY LATEST WORK and here is the most active region to date. Missed that major solar event? HERE ARE MY LARGER HIGHER RESOLUTION MOVIE FILES and my tutorial 1, tutorial 2, tutorial 3, How to measure solar features and my latest photos. I use The Image Source DMK21 cameras
TRANSIT OF VENUS 5 & 6 JUNE 2012 - HERE IS THE SDO DATA and my work using the GONG data
Here are over 140 online TV programs/talks and videos about the Sun dating back to the 1950's and over 180 books and substantive papers about the Sun/Solar Astronomy dating back to the 17th Century! Here is the latest Solar DATA from the science community. Would you be interested in sponsoring me and to help me to further develop my work?
20 May 2013 here is a look at a huge coronal loop structure as it announces the presence of an active region on the eastern limb this followed an M1.7-class flare event sequence from
08:01 to 08:29UT then clouded out. Image should be rotated 90 degrees counter clock wise for correct solar orientation.
6 May 2013 here is a 3-hour look at AR1734 from 09:59 to 12:59UT in grade 1 to grade 3 seeing conditions.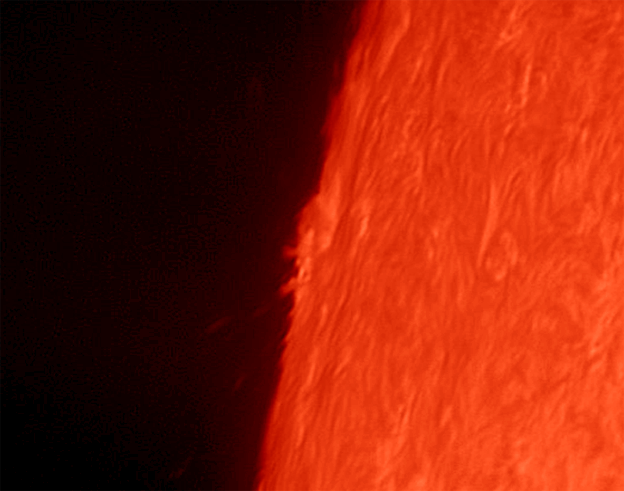 5 January 2013 here a new active region is rolling around the north-east limb and signals its arrival with a beautiful loop,
image from 11:45 to 12:53UT in grade 1 to grade 2 seeing conditions - a good start to the new year?
Here is a large mosaic on the 1 April 2013.
28 March 2013 here a solar twister dances on the south-east limb between 10:40 and 11:22UT in grade 1 to grade 3 seeing conditions.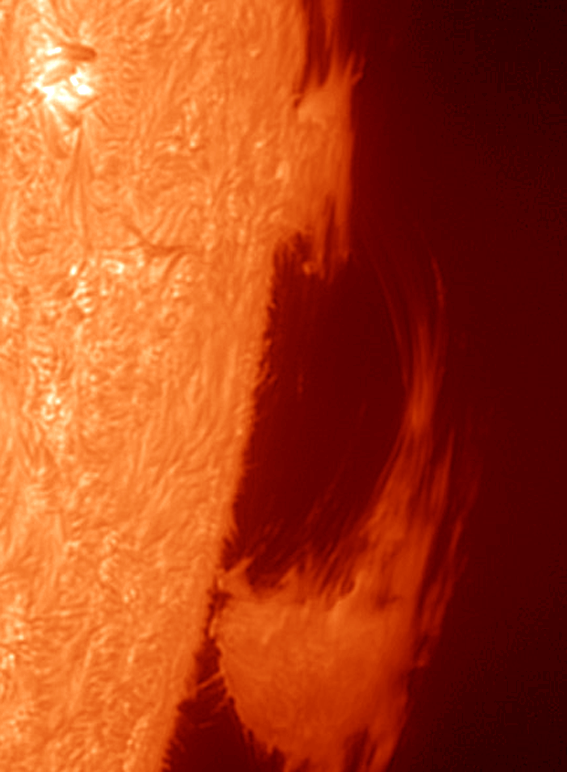 9 October 2012 from 09:18 to 10:26UT:
Here is an example of what my system is able to deliver on a solar prominence when I am at 3.2m focal length [F35] with my triple-stacked SM90 telescope.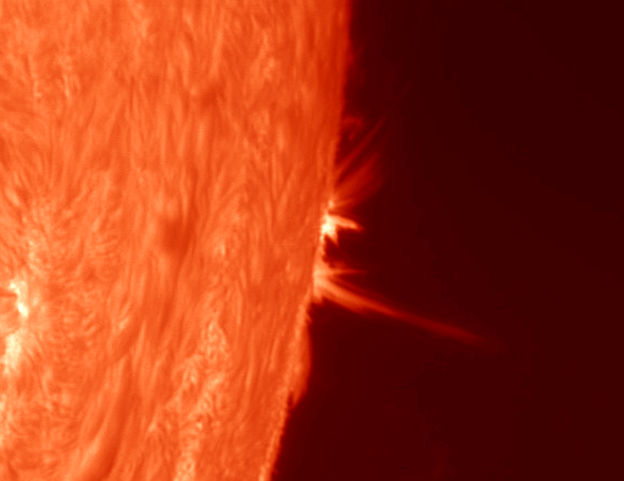 12 September 2012 here is a look at a surge prominence from AR1564 as it traverses the south-west limb between 09:35 and 10:31UT in grade 1
to grade 2 seeing conditions.
Something different and a tribute to a great man!
The photo above was taken at 2m focal length and here is one taken on the 17 April 2013 at 4m focal length this necessitated 115 separate panels!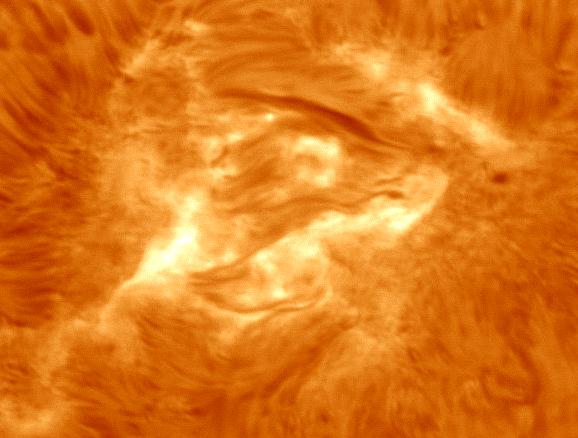 6 September 2012 here is a look at the plasma flowing through AR1564 between 09:40 and 11:58UT in grade 1 to grade 3 seeing conditions.
4 September 2012 here a huge prominence lifts off the north-west limb between 08:48 and 12:28UT in grade 2 to grade 3 seeing conditions.
Here is an M3.7-class flare that broke across AR1302 between 15-27 and 15-39UT on the 25 September 2011. The image shows my full sequence from 15-12 to 15-39UT, you can clearly see a loop fails and this triggers this huge side blast and ejection.  Interested in capturing and measuring solar flares? NEW - Please check out the new 32-minute DVD on Lets Talk Astronomy featuring some of my solar work.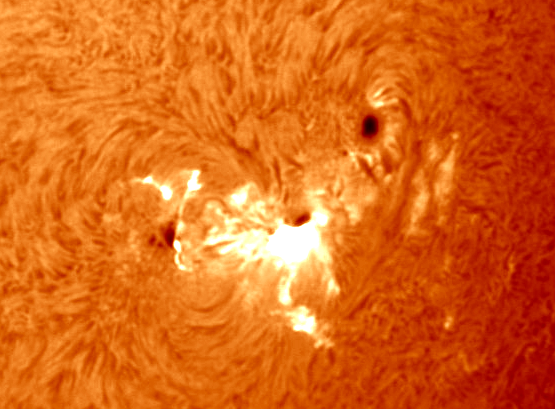 Here is a PST capture of an M6.1-class solar flare breaking across AR1515 on the 5 July 2012 with the sequence running from 11:47 to 12:31UT in grade 2 seeing conditions. This is the most introductory of hydrogen alpha telescopes.
Here is a spectacular post flare loop structure that I caught after an M7.7-class flare broke across departing sunspot AR1520 on the 19 July 2012 sequence between 08:56 and 11:56UT in grade 2 to grade 4 seeing conditions I used a standard PST at 1.6m focal length.
If you would like to appreciate the full resolution of my photos and animated sequences then right click onto them and select "Save image as" this will let you copy the image to a file of your choice. Then open a Powerpoint document [I use the 2007 version] click on the "insert" tab and then select  "picture", this will let you find the photo you just saved from my site and drop the file into Powerpoint. I usually do a default setting of the slide back ground to black and often stretch the image to fill the full slide. Then click on "slide show" and "from beginning" and enjoy. Any problems send me an email! All my photos are named with the date and the universal times showing for the beginning and end of the sequences and hover the cursar over them and it will show you should I have not included it in my descriptive text.
This is the largest solar flare event that I have captured thus far. It is an M6.7-flare that broke across AR1283 on 8 September 2011 with the sequence running from 15-57 to 16-18UT. The seeing conditions were a average/poor grade 3. A huge plasma loop arcs above the event. This featured on the front page of the NASA spaceweather web site on 9 September 2011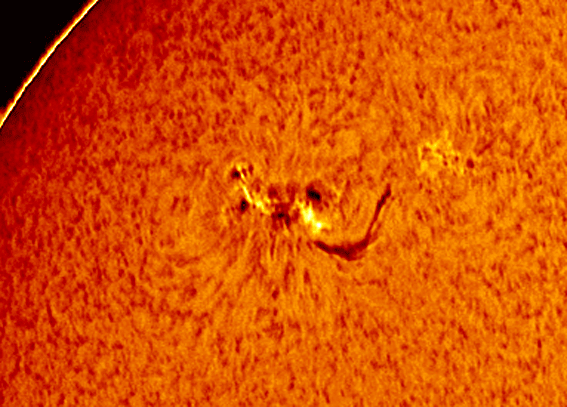 Here is a Huge X5.4-class solar flare, I have been given permission by the NSO in the US to use their data from the GONG network to make movies of the major solar events. Here is the link to my page featuring these major events.
Here I am starting to experiment with high resolution white light photography at long focal lengths using my Takahashi TOA130 refractor and a Lunt Herschel wedge I use Barlow lenses to increase the focal length to 4m. I am trying to capture the penumbral material flowing down into the umbra - the core of the sunspot. The photo above is the core of the leading sunspot AR1734 on 5 May 2013 between 12:06 and 13:22UT in grade 3 to grade 4 seeing conditions.
The animation above and the two still photographs are of a large Coronal Mass Ejection [CME] that I was lucky enough to photograph on the 13 April 2010. To give scale perspective to this event the Earth in comparison would be the size of the full stop at the end of this sentence and its height in the still photo is about 240,000 miles [about the distance between the Earth and the Moon] and it was about 500,000 miles long. Occasionally the Sun does produce monster eruptions like this and you just need to be there to capture it!
31 July 2012 here is another huge prominence lift off event that I caught between 08:42 and 09:32UT in grade 2 seeing conditions with my standard PST.
Here is my first capture of a Moreton wave a solar shock wave emanating from a M2.0-class solar flare, they are like the ripples when throwing a stone into a pond. I was using a standard PST at 0.8m focal length to capture this one. Sequence from 10-33 to 11-41UT in seeing grade 1 conditions.
Captured on the 3 December 2011 here is a limb blast that suddenly erupted from the north west limb as the result of a C3-class flare event. This sequence was taken with my old PST on an alt azimuth mount between 11-08 and 11-34UT and as such shows some field rotation. This demonstrates how unpredictable and explosive the Sun can be. It is a wonderful astronomical target and this image is prepared using only the very basic hydrogen-alpha telescope on the market!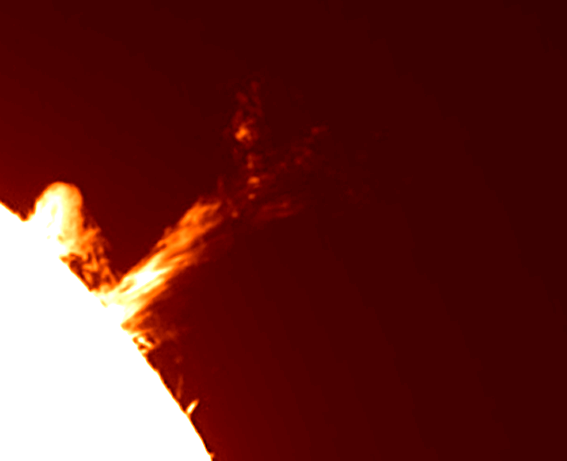 26 September 2011 here as a clip af a very dynamic filament in action associated with AR1302 sequence from 11:13 to 11:36UT used SM90.
Sometimes these magnetic filaments erupt here is one that I caught with my PST on the 4 August 2012 between 12:18 and 13:27UT in grade 2 seeing conditions. This filament was over 500,000 miles long.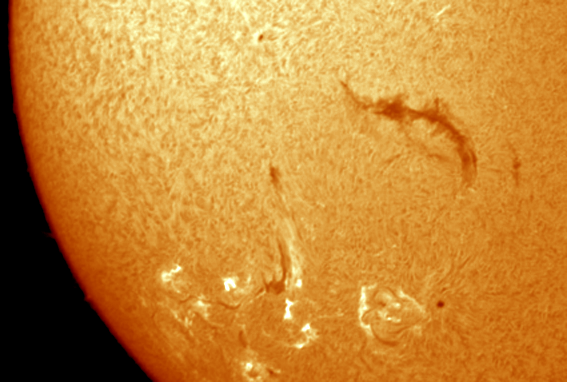 Here are some of the illusive post flare loops, these were still reconnecting 7 hours after a major X1.8 limb flare event. Sequence 28 January 2012 between 09-48 and 10-30UT.
Here I was filming a large active region when a plane shot through my field of view.
If you have any specific areas that you wish to improve on with your solar astronomy then please contact me through the contacts section at the bottom of my site menu and I shall respond to you directly. I will also draw together any common requests and build these answers/suggestions into some of my future tutorial sections. Here are all the web links that I have compiled should the main menu be playing up.
Please stay happy and healthy, I wish you clear skies.
Best regards
Andy Devey
NEW please check out this new DVD that you can also watch on line Lets Talk Astronomy - here I do a 25 minute interview and presentation with Dennis Ashton on SAFE solar astronomy and outreach techniques. This 32 minute program features many of my stills and coloured animation sequences together with practical tips on how to make progress - enjoy!